Download our Executive Search Guide.
Breaking the 'traditional' Exec Search model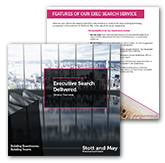 Learn why CEO's and investors in some of the most exciting technology companies in the world are partnering with Stott and May in search for Senior Leadership. This guide takes you through the features and benefits of our Executive Search service and will arm you with some key questions to contemplate prior to selecting your chosen agency.
This guide includes:
The key reasons why clients rate our service
A breakdown of what you can expect at the shortlist stage of an assignment
Examples of where Exec Search assignments can get risky
Our recently completed assignments
First hand reviews of our Exec Search offering