Research Report: Does Enterprise Architecture need a re-brand?
A 360 degree perspective on the role of the Enterprise Architect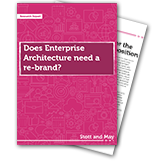 In July 2017, Stott and May commissioned a research report into the evolving role of the Enterprise Architect which has since 2010 been in a state of change with many an external commentator forecasting the diminishing value and influence of the position. We ultimately sought out to answer the question: Is Enterprise Architecture dead or does it just simply (or perhaps not so simply) need a re-brand?
This primary research report comprises of the views of 65 individuals ranging from those 'in the role' (Enterprise Architects themselves), those that 'need to see value from the role' (Managing Directors, CIO's, CTO's, Global Heads of Technology) all the way through to those that 'comment on the role' in the market (the IT Industry Analyst community). In conjunction with our primary quantitative research, qualitative interviews were also conducted with some of the leading technology focused businesses in the market.
This research report focuses in on:
The forces of change surrounding Enterprise Architecture
The death of Enterprise Architecture
The business demands of the Enterprise Architect
The 5 most common mistakes an Enterprise Architect can make
Salary benchmarks for the Enterprise Architect position