How are you handling the cost of contract resources?
Check out the Agile Growth Playbook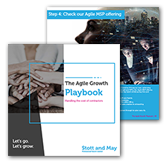 Most organisations - regardless of size - require contractors at some point within the project lifecycle, whether it to be to acquire specific niche skillsets or for extra manpower to complete strategically important initiatives on time. However, our clients big and small regularly find that their net spend on contract resource and managing the various agencies involved can become inefficient very quickly.
This guide takes you through the key steps required to tackle the challenges of inefficiency in contract recruitment starting at defining the problem and outling the costs through to understanding your options going forward.