Flicking the Switch: The Role of CIO's in Shaping Customer-Centric Utilities
Date: Thursday 13th July 2017
Venue: The Eight Club, Bank
It's never been a more demanding time to be a CIO in the Utilities sector as 'the era of smart' moves from concept to commercial reality. Customers are becoming more demanding as a result of brilliant experiences in other industries. Regulatory change is also shifting the competitive landscape. As a result, utilities organisations need to find higher ground and press their advantage through technology to secure leadership positions and create meaningful business advantage. Successfully navigating this transformation delivers more opportunities for 'value add' engagements with customers and substancial potential to optimise existing business models and create new lines of revenue. The nature of competition is also changing dramatically as customer-centric businesses from adjacent industries look set to move in to compete for the 'connected home'.
This roundtable event will see some of the brightest minds in the industry come together to share best practices around how to deal with the challenges of change. We will delve into the people, process and technology issues that IT leaders need to overcome in order to lead their business towards tangible customer-centric outcomes.
The Agenda
6:00 – 6:30pm Welcome drinks
6:30 – 6:40pm Introduction from Stott and May
6:40 – 7:15pm 'The Techies of Tomorrow' - How will AI and Robotics change the IT landscape in Utilities?
7:15 – 8:30pm Three-course dinner with table discussion
8:30 – 9:00pm Closing comments from Stott and May and comments from the attendees
The Key Discussion Points
The top technology trends impacting customer experience in 2017

The challenges of winning board level support for customer-centric initiatives

The competitive threats we need to be wary of

The opportunities to create new business models from data

The implications on the types of skills we need going forwards
How to attract talent from both our competitors and other industries
The Keynote Speaker
Florentin Albu, Chief Information Officer - Ofgem E-Serve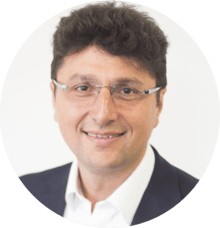 Florentin is the Chief Information Officer at Ofgem E-Serve who are a specialist organisation delivering green energy schemes on behalf of the British government. He currently leads teams in London and Glasgow, with responsibility for digital transformation, technology innovation and advanced data analytics to enable renewable energy transactions worth £6bn per year.
Prior to joining the renewable energy sector, Florentin led IT transformations and improved global IT operations as CIO/IT Director with Rothamsted Research (biotech), United Nations (international affairs), EUMETSAT (aerospace) and Amnesty International (human rights). Florentin holds a BSc in engineering from the University Politehnica Bucharest, and a Masters in management from the Hult Ashridge Business School. He is a member of the British Computer Society and of the Institute of Information Security Professionals.
The Host
Joshua Springer, Client Services Manager - Utilities